Valerie Wilson Wesley, "A Shimmer of Red (An Odessa Jones Mystery #3)"
Thursday July 27th, 2023 from 7:00pm - 8:00pm
Join us in celebrating Valerie Wilson Wesley with her third Odessa Jones Mystery installment, A Shimmer of Red, in conversation with Edgar Award Nominee Kellye Garrett.
From the award-winning creator of Newark private eye Tamara Hayle, the third installment in a spell-binding cozy mystery series featuring a multicultural cast and starring Odessa Jones, a recent widow with a brand new catering business, a full-time real estate gig, and the gift of second sight.
With pandemic-fearing city dwellers fleeing to the New Jersey suburbs, Risko Realty—and Odessa Jones—are having their best year ever. Finally on solid financial footing, Odessa is debt-free and looking forward to the future. But she doesn't need second sight to sense her new young co-worker, Anna Lee, is on edge--and straight-up terrified--in spite of her hot sales record and sunny, outgoing attitude. And when Anna is killed in a hit-and-run, Odessa sees immediately that it was no accident...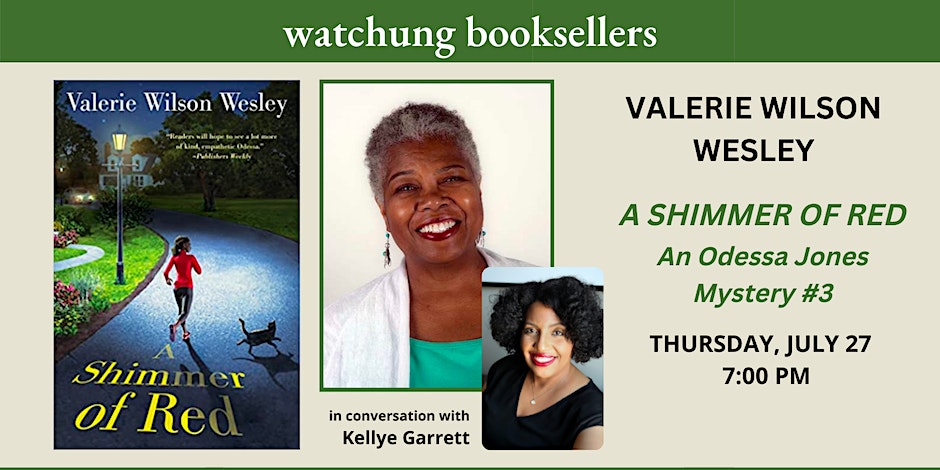 Registered guests will receive priority seating. Any remaining seats will be open to standby guests beginning at 6:50pm