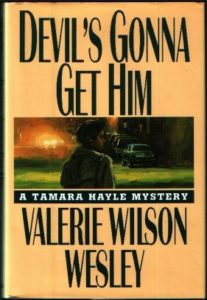 Devil's Gonna Get Him: A Tamara Hayle Mystery
When her latest client, one of the richest, and rudest, African-American males in all of New Jersey, keels over at a fund-raiser, detective Tamara Hayle discovers that everyone in his life had good reason to see him dead. By the author of When Death Comes Stealing.
Editorial Reviews
From Publishers Weekly
Wesley, Essence magazine's editor-at-large, brings back Tamara Hayle, the sharp-witted, warm former New Jersey cop now a Newark PI, in an atmospheric sequel to Death Comes Stealing. Wealthy black Newark mover and shaker Lincoln Storey hires Tamara to tail his stepdaughter's new boyfriend. Needing the job, Tamara agrees, despite her misgivings. She suspects Storey is using her in some way, and she is also reluctant to follow the boyfriend, with whom she'd had a torrid love affair years before. But when Storey dies at a political dinner and her friend's sister, who catered the affair, is arrested for his murder, Tamara applies herself in earnest. Encouraged by her former boss on the force and a lawyer friend (and love interest), she delves into Storey's sordid personal life and ultimately becomes a target herself. Although the plot is derivative and stretched, Wesley's characterization is powerful; the down-to-earth observations of single-mother Tamara, her teenage son and her friends about black urban life amply fill out the thin spots. Author tour.
Copyright 1995 Reed Business Information, Inc.