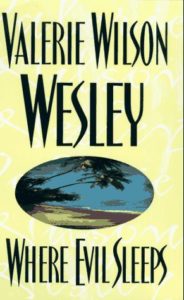 Where Evil Sleeps: A Tamara Hayle Mystery
Sleuth Tamara Hayle is relaxing in Jamaica when she is befriended by Lilah Love from Newark, NJ., but an evening on the town with Lilah and her friends leads to a killing, and Tamara must find a way through her past to get on the path to the murderer. 45,000 first printing.
Editorial Reviews
From Publishers Weekly
Newark PI Tamara Hayle, last seen in Devil's Gonna Get Him, narrowly survives her Kingston, Jamaica, vacation despite her dangerous propensity for talking to strangers. Tamara only reluctantly accompanies giggly fellow tourist Lilah Love to a seedy bar with Lilah's husband, Sammy Lee, and a friend, Delaware Brown. There, after punks kill the lights, Sammy Lee and another man are murdered, and Tamara's bag, with credit cards and passport, is stolen. Basil Dupre, a "naughty delight" from Tamara's past, shows up and whisks her off to safety. Then Lilah appears and convinces Tamara to help her search for Lilah's share of a bundle of money, which, along with Tamara's bag, is in Delaware's rooms. Once there, Lilah promptly scoots, leaving Tamara to discover Delaware's bludgeoned corpse but, alas, not her passport?and without it she's trapped in a week of sun and fun so violent, it takes even more deaths to extricate her.
Copyright 1996 Reed Business Information, Inc.
From Kirkus Reviews
Where evil sleeps, it seems, is in Kingston, Jamaica–except that it doesn't sleep for long, because ever since Newark shamus Tamara Hayle spiced up her vacation by tagging along to a seamy bar with Lilah Love and her short-tempered husband Sammy Lee, the cast members (starting with Sammy Lee) have been dropping like flies. After a burst of violence leaves the bar deserted but for Tamara and two corpses, Tamara, flummoxed by the theft of her handbag (cash, plastic, passport), has to depend on that old devil Basil Dupre for rescue–and Basil, who talks like a combination of small-town seducer and New Age therapist ("What sorrow has made your heart grow so hard, Tamara Hayle?" he reproaches her)–doesn't provide much refuge from a wild, mindless plot Wesley (Devil's Gonna Get Him, 1995, etc.) seems to be making up as she goes along. The body count of a Jamaican Big Sleep, but all other resemblances are strictly coincidental. — Copyright ©1996, Kirkus Associates, LP. All rights reserved.