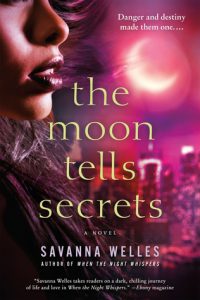 The Moon Tells Secrets
"Don't trust nobody. Not family. Not friend. Don't let it get him like it got my son, not until he is ready to meet it. And remember that blood must pay for blood. A debt must be paid. Your boy can never forget. That is his destiny."

Raine is at her wits' end. Her eleven-year-old son Davey, whom she has raised by herself, has the power to shift into any animal—a "gift" from his dead father. Raine doesn't know how to control this legacy nor protect Davey from the skinwalker bent on killing them both. And if the skinwalker fails, she fears the sinister fate that awaits her son.
Cade, still grieving the brutal murder of his wife, finds solace in Raine's companionship. But as the savage details of his wife's death mirror the powers that Davey is soon to have, Raine must fight to protect her child…in The Moon Tells Secrets by Savanna Welles