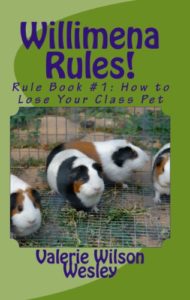 Willimena Rules! Rule Book #1: How to Lose Your Class Pet
Willimena Thomas tries to get her teacher Mrs. Sweetly to like her. Mrs. Sweetly has a reputation for being strict with children. Willie thinks that if she volunteers for everything, Mrs. Sweetly will really like her. So Willie volunteers to take care of Lester, the guinea pig, the third grade class pet, and the consequences are disastrous. Willie learns from the experience and Mrs. Sweetly reveals a side of herself that Willie never imagined.
Editorial Reviews
From School Library Journal
Grade 2-4-The African-American child introduced in Willimena and the Cookie Money (Hyperion, 2001) is back for another adventure. She has been looking forward to third grade at Harriet Tubman Elementary because she will have the nicest teacher in the school. However, there's been a change, and she is assigned to Mrs. Sweetly, the meanest one. Willimena devises a plan to get her teacher to like her by being as nice as she can be-something that her sister, Tina, who is in fifth grade, disapproves of as false. Willie volunteers to take care of the class pet, a guinea pig, which includes taking him home for the weekend. In a moment of inattention, Lester is lost. After unsuccessfully looking for him, the girl realizes that she is going to have to confess to her teacher and the class. Most children will be able to identify with this story, and the dialogue between Willie and her sister sounds realistic, with the two arguing and then giggling from one minute to the next. Black-and-white pencil illustrations convey the oftentimes-humorous tone of the novel. This satisfying tale with an appealing heroine is a good choice for the easy chapter-book section. And there's always the possibility that Lester will reappear in another installment.
Elaine Lesh Morgan, Multnomah County Library, Portland, OR
Copyright © Reed Business Information, a division of Reed Elsevier Inc. All rights reserved. –This text refers to an out of print or unavailable edition of this title.