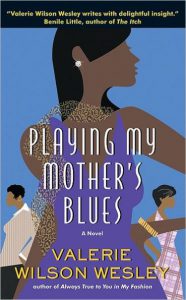 Playing My Mother's Blues: A Novel
Dani Carter was seven years old—her sister, Rose, seventeen—when their beautiful, impetuous mother, Maria, walked out of their lives, abandoning her husband and family for a love affair that would end tragically mere months later. Now, after decades, Dani's own loveless marriage is faltering—propelling her into the arms of another and inspiring troubling thoughts of escape from her husband and beloved young son.
Dani fears the sins of the mother have been visited upon the daughter. And, unlike Rose, who never speaks of their lost parent, Dani can't help but wonder who Maria really was. It's a puzzle that may soon be solved because, in a time of emotional and physical chaos, Maria, calling herself Mariah, is about to re-enter her daughters' worlds—bearing secrets and bitter truths . . . and, perhaps, long-awaited answers.
Editorial Reviews
Review
"[Tamara Hayle] has a way with a wisecrack that is postively lethal." (Washington Post Book World)
"An engangin heroine—smart, sexy, tough but tender." (Houston Chronicle on Tamara Hayle)
"A wonderfully believable and independent sleuth who combines intellect and intuition, sexiness and self-control." (Denver Post on Tamara Hayle)
"A richly told narrative of a sister who discovers that ripeness is all." (Black Issues Book Review)
"Outstanding. . . . A warm, witty comedy of midlife manners." (Boston Herald on Ain't Nobody's Business If I Do)
"an absorbing family saga." (Emerge)
"A heartwarming tale." (Booklist)