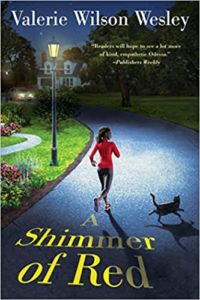 A Shimmer of Red: An Odessa Jones Mystery
From the award-winning creator of Newark private eye Tamara Hayle, the third installment in a spell-binding cozy  mystery series featuring a multicultural cast and starring Odessa Jones, a recent widow with a brand new catering  business, a full-time real estate gig, and the gift of second sight. When a young realtor is suddenly killed in a  hit-and-run, Odessa must wade through a legion of lies to find the hidden killer…with a little help from  her spirited aunt, loyal co-workers, mischievous cat Juniper and her own psychic skills.
With pandemic-fearing city dwellers fleeing to the New Jersey suburbs, Risko Realty—and Odessa Jones—are having their best year ever. Finally on solid financial footing, Odessa is debt-free and looking forward to the future. But she doesn't need second sight to sense her new young co-worker, Anna Lee, is on edge–and straight-up terrified–in spite of her hot sales record and sunny, outgoing attitude. And when Anna is killed in a hit-and-run, Odessa sees immediately that it was no accident . . .
It's soon clear that Anna was being stalked. But even with the help of family, friends—and Odessa's feisty cat, Juniper—Odessa is coming up with more questions than clues. Why was Anna avoiding influential real-estate mogul Emily Delbarton? Why is Delbarton's decidedly creepy brother so fixated on Anna? Did Anna make enemies through her previous job at the town's exclusive gentlemen's club? And can Odessa rule out her own ex-fiancé—who's back in her life with an astounding connection to Anna—and wanting a second chance?  Finding the answers will come at an increasingly deadly cost—one Odessa's talents must somehow trap a killer to repay . . .
"There's also something oddly comforting about a Black woman in fiction who isn't weighed down by societal pathology and who can appreciate a good glass of Merlot and reruns of "Downton Abbey" as much as the next woman. In between heavier mystery fare, this unicorn of a Black cozy is a welcome palate cleanser." —The Los Angeles Times on A Glimmer of Death
Available Tuesday, July 25, 2023