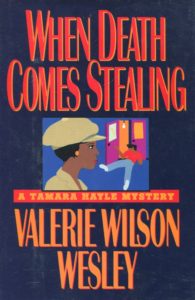 When Death Comes Stealing: A Tamara Hayle Mystery
Struggling as a single mother to make ends meet on the mean streets of Newark, New Jersey, ex-cop-turned-PI Tamara Hayle races against time to find a murderer when someone begins killing her ex-husband's sons–and her own son might be next.
Editorial Reviews
From Publishers Weekly
In her adult fiction debut, Essence magazine executive editor Wesley introduces a decisive, independent PI and single mother as heroine but sets her in a transparent, formulaic plot. Tamara Hayle, a divorced ex-cop, and her 14-year-old son, Jamal, live in Newark, N.J., not far from Jamal's father, DeWayne, who has three other sons by three different women. Ordinarily, Tamara has no sympathy for DeWayne, but when one of his sons dies of what the cops say is a drug overdose, she agrees to DeWayne's request that she investigate the young man's apartment. She finds a neat room with fresh food in the fridge and extra money carefully stashed away–not the expected residence of a cocaine addict. When another of DeWayne's sons drowns in a bathtub five days later and another is shot soon after that, Tamara becomes terrified for Jamal's safety. Wesley creates a broad, interesting cast, from gentle Jamal to a suave, violent-tempered Jamaican who tries to seduce Tamara, but too little is revealed of the PI herself. The book's strength lies in its portrayal of black family life in dangerous times–future installments of this promised series will have to fill us in on Tamara. Author tour; first serial to Essence.
Copyright 1994 Reed Business Information, Inc.
From Library Journal
Essence editor Wesley's first mystery debuts Newark P.I. Tamara Hayle, a talkative, underemployed, black ex-cop mother whose credibility suffers not so much from character as from action. Tamara's ex-husband, a rich man with many women, begs her to discover who has murdered his son-not the first of his five children to die under suspicious circumstances. While Tamara waffles, more deaths occur, an old flame makes hot and heavy advances, and inconsistent dialog rushes everything else along. Thin plotting and a distracted heroine may not impede the demand that should stem from planned serialization and heavy publicity.
Copyright 1994 Reed Business Information, Inc.