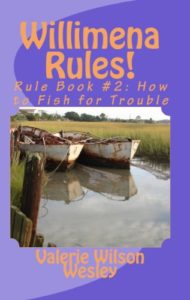 Willimena Rules! Rule Book #2: How to Fish for Trouble
Spring break is coming and 8 year old Willimena is excited that she'll get time off from school. Teddy, her favorite cousin, is coming to visit. Her dad has promised that Tina, Willie's older sister, Teddy and Willie will fly kites, go fishing, and maybe even hiking. Willie's excitement turns sour when Tina and Teddy become inseparable, excluding Willie. To make matters worse, her dad seems to prefer Teddy as well! Willie learns through a mishap that her family, are her real friends.
Editorial Reviews
From School Library Journal
Grade 2-4–When cousin Teddy visits, Willie is jealous of the attention he receives from friends and family, especially her dad. During a fishing trip, she concocts a hair-brained scheme to get noticed, resulting in unexpected consequences. The African-American characters are realistic and likable, and they experience circumstances and emotions common to most young readers. The childlike, first-person narrative will reel readers in and the quirky, cartoon illustrations will keep the pages turning. A winning addition for moving-up collections.–Ajoke' T. I. Kokodoko, Oakland Public Library, CA
Copyright © Reed Business Information, a division of Reed Elsevier Inc. All rights reserved. –This text refers to an out of print or unavailable edition of this title.