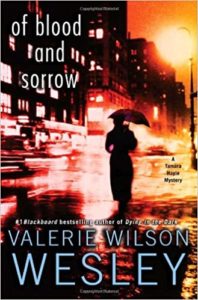 Of Blood and Sorrow: A Tamara Hayle Mystery
Valerie Wilson Wesley's private investigator, Tamara Hayle, whom the Houston Chronicle calls "smart, sexy, tough but tender," has earned enthusiastic acclaim from reviewers and readers alike. Now Newark, New Jersey's savviest detective confronts the one case she never saw coming–and discovers how ties that bind can easily become a noose.
Tamara Hayle can't believe that her life is this good. New York's most powerful businessman wants her to work for him, her new lover seems caring and supportive, and her son, Jamal, is thriving. But as Tamara sardonically observes, "When things stir that easy, there's always something lumpy at the bottom of the pot."
Enter Lilah Love, an old acquaintance who begs Tamara to find her missing child. Tamara, however, is wary of Lilah, who attracts mayhem and murder like an alley cat attracts fleas. Next up is Basil Dupre, Tamara's outlaw ex-lover, who always brings passion–and chaos–when he strolls into Tamara's life. Suddenly Tamara's safe world isn't so secure, especially when Jamal witnesses a brutal murder and becomes the prime suspect.
As the body count rises, Tamara and Jamal will follow a long-forgotten secret into a terrifying confrontation with love gone bad, trust turned lethal, and a past hungry to claim more lives.